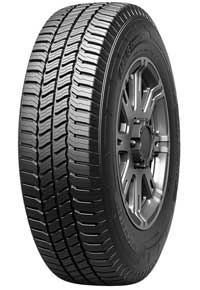 Michelin Agilis CrossClimate
Key Features
Our Most Durable Heavy Duty Light Commercial Truck Tire
Improved Tread Life Under Heavy Loads
Excellent Wet and Snow Traction
Professional-Grade Construction including CurbGard™ sidewall protectors that resist curb scrubbing in urban environments. This tire has more than twice as much nylon reinforcement than the Michelin® Defender® LTX® M/S for improved durability.
The Michelin® Agilis® CrossClimate® tire lasted 10 percent to 19 percent longer under heavy loads than three leading competitive commercial tires.[2] MaxPressure Profile™ optimizes the tire footprint for better wear life under high pressure, heavy loads, high torque, and stop and go driving. Additionally, the StabiliBlok™ design provides wider and longer tread blocks, to resist extreme torque while providing cool operating temperatures under full load at high speed.
The Michelin® Agilis® CrossClimate® tire offers shorter wet stopping distances[3] and better snow traction[4] than leading competitive long-warranty tires. SipeLock™ provides hundreds of biting edges for improved wet and snow traction without sacrificing tread block stability.
Vehicle Category: Light Truck/SUV
Performance Category: All Weather
Contact Us About This Tire
16 Available Sizes
Size
Load/Speed Index
Run Flat?
Overall Diameter
16"
215/85R16
115/112R
30.40"
225/75R16
115/112R
29.30"
235/85R16
120R
31.70"
245/75R16
120/116R
30.50"
265/75R16
123R
31.60"
17"
235/80R17
120/117R
31.80"
245/70R17
119/115R
30.60"
245/75R17
121/118R
31.50"
265/70R17
121R
31.60"
285/70R17
121/118R
32.80"
18"
265/70R18
124/121R
32.60"
275/65R18
123/119R
32.10"
275/70R18
125/121R
33.20"
20"
265/60R20
121/118R
32.50"
275/65R20
126/123R
34.10"
285/60R20
125/121R
33.50"