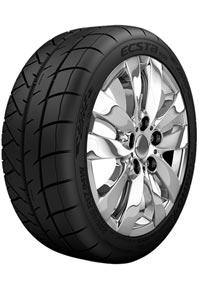 Kumho Ecsta V720
Key Features
Heat dispersion by 3D hot dimples helps extend the tread life and improve wet performance.
Solid center rib maintains high-speed stability for precision control under duress.
Wide, optimized outside blocks deliver excellent grip around corners and exceptionally stable dry handling.
Crossed lateral grooves channel water away from the tread for enhanced wet handling. Inside grooves reduce hydroplaning. Outside grooves clear water from the shoulder block for better wet cornering.
Vehicle Category: Passenger
Performance Category: Performance Summer
Contact Us About This Tire
8 Available Sizes
Size
Load/Speed Index
Run Flat?
Overall Diameter
15"
225/45R15
87W
23.00"
17"
235/45R17
95W
25.40"
245/40R17
91W
24.70"
18"
235/40R18
91W
25.40"
265/35R18
97W
25.30"
275/35R18
95W
25.60"
285/30R18
93W
24.80"
19"
305/30R19
102W
26.30"