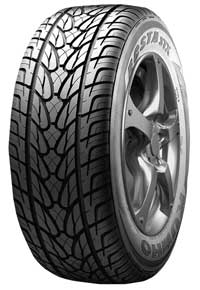 Kumho Ecsta STX KL12
Key Features
All-season performance.
Two wide circumferential and lateral grooves evacuate water from under the tread area to minimize the risk of hydroplaning.
Large, stable tread blocks promote a solid footprint and responsive steering under the most demanding conditions.
Variable pitch tread blocks assist with road harmonics to produce a quiet ride, reducing vehicle cabin noise.
Rim protector in lower sidewall safeguards wheels against curb damage.
Jointless construction and bead reinforcement ensures durability, large contact patch and steering response.
Vehicle Category: Light Truck/SUV
Performance Category: Performance All Season
Contact Us About This Tire
13 Available Sizes
Size
Load/Speed Index
Run Flat?
Overall Diameter
16"
255/65R16
109V
29.10"
18"
275/55R18
114V
29.80"
285/60R18
116V
31.50"
19"
285/45R19
107W
29.10"
20"
275/45R20
106W
29.80"
275/55R20
117V
31.90"
285/50R20
112V
31.30"
305/50R20
120V
32.00"
22"
265/35R22
102W
29.30"
265/40R22
106V
30.50"
285/45R22
114V
32.10"
305/40R22
114V
31.60"
305/45R22
118V
32.80"