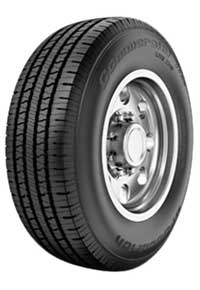 BFGoodrich Commercial T/A All-Season 2
Key Features
Help your fleet budget go further
Commercial Grade toughness, that's built for the long haul
An optimized footprint better distributes stress to increase treadlife and lower operating costs.
Improved durability vs. the BFGoodrich Commercial T/A All-Season; CoolWedge™ shoulder insert enhances cooling and prolongs tire life.
Vehicle Category: Light Truck/SUV
Performance Category: All Season
Contact Us About This Tire
9 Available Sizes
Size
Load/Speed Index
Run Flat?
Overall Diameter
16"
215/85R16
115/112R
30.39"
225/75R16
115R
29.29"
235/85R16
120/116R
31.73"
245/75R16
120R
30.47"
265/75R16
123/119R
31.65"
17"
235/80R17
120/117R
31.81"
245/70R17
119R
30.55"
245/75R17
121/118R
31.50"
265/70R17
121R
31.65"