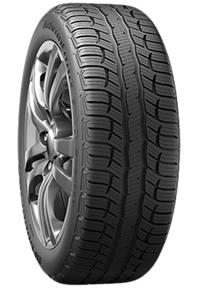 BFGoodrich Advantage T/A Sport LT
Key Features
ALL-SEASON, ALL-PURPOSE: Up to 30 percent better snow traction than leading competitors, exceeding RMA Severe Snow Traction performance requirements 9 percent better hydroplaning performance
ADVANCED MILEAGE: Up to 20,000 more miles with the Advantage T/A Sport LT
AGILE HANDLING: 10 percent better handling
Locking 3-D Active Sipe Technology provides more biting edges for significantly increased wet and light snow traction. Advanced All-Season Tread Compounds are silica-infused compounds to deliver outstanding grip year round. Aqua-Flume™ Technology is a curvilinear groove network designed to disperse water from under the contact patch.
Optimized Footprint manages tread wear evolution for longer life and a quiet ride. Locking 3-D Active Sipe Technology designed to lock together under tire's footprint providing stability for longer wear. Full Depth Tread Features maintain consistent performance and look throughout the life of the tire
Next Generation ETEC System™ (Equal TEnsion Containment System) maintains optimal footprint shape during cornering and high speed situations+. Next Generation g-Wedge Sidewall Stabilizer™ stabilizes sidewall for crisp handling and comfortable ride. Continuous Center Rib provides consistent steering response and road feel.
Vehicle Category: Light Truck/SUV
Performance Category: All Weather
Contact Us About This Tire
39 Available Sizes
Size
Load/Speed Index
Run Flat?
Overall Diameter
15"
235/75R15
109T
28.90"
16"
215/70R16
100H
27.80"
215/70R16
100T
27.80"
225/70R16
103T
28.40"
225/75R16
104T
29.30"
235/70R16
106T
29.00"
245/70R16
107T
29.50"
245/75R16
111T
30.50"
255/70R16
111T
30.10"
265/75R16
116T
31.70"
17"
225/65R17
102H
28.50"
225/65R17
102T
28.50"
235/65R17
104T
29.10"
245/65R17
107T
29.50"
245/70R17
110T
30.60"
255/65R17
110T
30.10"
265/65R17
112T
30.60"
265/70R17
115T
31.70"
18"
235/55R18
100V
28.20"
235/60R18
103V
29.10"
235/65R18
106H
30.00"
235/65R18
106T
30.00"
245/60R18
105H
29.60"
255/55R18
109V
29.00"
265/60R18
110T
30.50"
265/65R18
114T
31.50"
265/70R18
116T
32.60"
275/65R18
116T
32.10"
19"
225/55R19
99H
28.80"
245/55R19
103T
29.70"
255/60R19
109H
31.10"
20"
235/55R20
102H
30.20"
245/50R20
102H
29.70"
255/50R20
109H
30.10"
255/55R20
110H
31.00"
265/50R20
111T
30.50"
275/55R20
113T
31.90"
275/60R20
115T
33.00"
22"
285/45R22
114H
32.10"